39,00 €
Info: VAT is not collected, according to §19 (1) UStG.
This is the first ever virtual 8-string bass guitar plugin: the handcrafted BassLine Buster Std 8. The original bass was sampled and put into VST3 format, so you can use it as MIDI instrument in your DAW.
Add this unique sounding instrument now to your virtual instruments collection!
Description
As a producer you're always keen on the perfect tone and sound to make your production unique. We've sampled this special, octaved 8-String high-class bass guitar and put it into a plug-in. It's a plug-in that gives you an unique and realistic sounding "copy" of the original bass. Instead of using the same virtual bass over and over again, why not try out something new?
The instrument was handcrafted in Krefeld, Germany. It features active electronics and custom components, like a special ETS bridge. The plug-in offers you different playing styles inclusive alternate picking and many more stuff.
If you find the original bass interesting and what to know more, check out this article, released by the manufacturer itself.
Plug-in features
✅ Unique 8-String bass sound with octave strings
✅ Perfect fit for melodic rock and epic tracks
✅ Great for other genres, too
✅ Lowest tone: C1 (drop C tuning)
✅ Highest tone: G4 (24th fret, regular tuning)
✅ Humanize function for realistic sounding playing
✅ Easy to use for beginners (articulation by velocity)
✅ Key switches for power-users
✅ Finger style
✅ Pick style
✅ Automatic alternate picking
✅ Slapping
✅ Tapping
✅ Palm mute
✅ Slides and bending
✅ Hammer on
✅ Pull off
✅ High resolution samples with lossless compression
✅ Unprocessed clean DI to use you own amp/fx plugin
Technical details
VST3-Compatible with DAWs under Windows and Mac OS (64-Bit), e.g. Steinberg Cubase, Ableton Live, Reaper, Mixcraft and may more. No Kontakt Player needed!
Recommended hardware requirements:
– AMD or Intel dual-core CPU, e.g. Intel i7 or AMD Ryzen processors.
– 4 GB of RAM or more
– 1 GB free HDD storage or more
This is not a physical product, this means there's no shipping.
You can download this digital product after the purchase. 💪
14 day money back guarantee, if it does not work on your machine!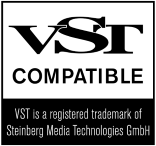 Demos and samples
You're curious and want to hear a more? Check out this stuff: